Over the last few months, J has discovered the magical world of books. What used to be just another chew toy has suddenly become a daily essential to enjoy in the morning, on-the-go and before bed. Picture books are his current favourite, especially if they're lift-the-flap ones and definitely if they involve Peppa Pig.
The Book People recently got in touch and treated J to some new books for his collection. He was in his element! A whole new set of Peppa Pig stories, a new lift-the-flap Spot book, some books ready for spring, stories to inspire his imagination and some picture/word books to help with his speaking:
This got me thinking about home decor and the amount of amazing ideas I see online (mostly on Pinterest and Instagram). From how to store your favourite stories to how to give a nod to your favourite novel. Here are some of my favourite ideas that I've used in my home:
Frame Cards
Head to the card section of most bookshops / websites and you'll likely be spoilt for choice with cards that feature your favourite characters. From Roobarb & Custard to Pride & Prejudice, it's a quick way to create art that means something to you. (If you buy IKEA frames then it's also a really affordable way to personalise art in your home – have a look at my Easy Art post.)
I made J a gallery wall in his nursery with famous characters including Noddy, Mog the Forgetful Cat, Beatrix Potter characters and a Charlie & The Chocolate Factory illustration. I think it's a great way to get him into reading from a young age – by making the characters part of his room.
Posters & Prints
The Literary Gift Company offer an entire novel in poster format so you can read a bit here and there! You can also find their lovely products on Not on the High Street – I have the Alice in Wonderland print in our bathroom. Speaking of NOTHS – simply search a classic book and you'll likely see a number of pretty posters, prints, cushions, etc to display in your home.
(Clockwise from left: Alice In Wonderland, The Wizard of Oz, Huckleberry Finn, Pride & Prejudice. Images via The Literary Gift Company / Not On The High Street)
Etsy is also great if you know what you're looking for. I knew I wanted some sort of nod to Harry Potter in our home (we both love the books and films) so after a quick search on the site, I came across this print, which is now hanging in our downstairs WC.
A bestie also treated me to an illustration from a vintage Alice in Wonderland book, which I had framed. It's my favourite book so it was the perfect gift:
Pretty Books
Books themselves can make beautiful decor pieces – I particularly love books that add a pop of colour, like these Puffin Classics in my nephew N's nursery. (I also love his Beatrix Potter music and money boxes – pure classics.)
Characters
There are so many memorable characters in literature, especially from children's books. Other than books and prints, there are lots of other ways to feature them in your home. For example, Royal Mail released a collection of Beatrix Potter stamps to commemorate 150 years since the author's birth. I ordered two sets and put them in IKEA frames for J & N. An easy way to create nursery art, plus it's something valuable they can keep for the future:
J also has some lovely soft toys including Peter Rabbit, Benjamin Bunny and a Moomin. We found HomeSense was a great place for Roald Dahl decor, where we bought J's Charlie & The Chocolate Factory cushion. You can also buy some pretty Roald Dahl lampshades on Etsy. (If you love Roald Dahl as much as I do, take a look at my Roald Dahl decor post here.)
Bookends
You can buy some brilliant bookends these days – ornate ones, funny ones! Here are some of my favourites: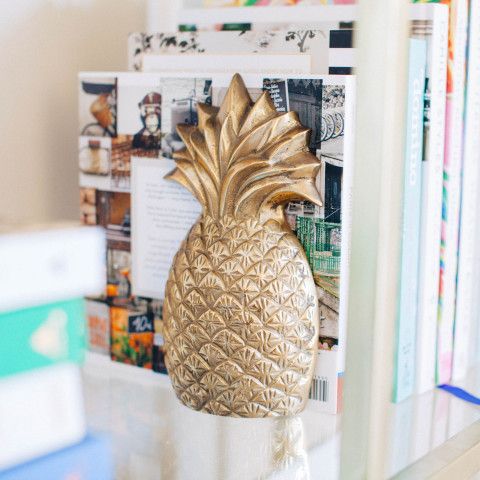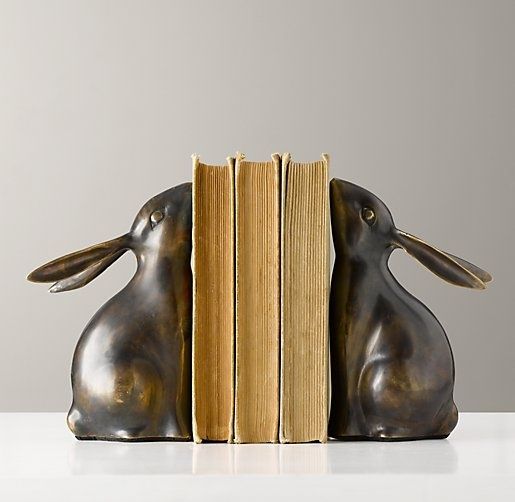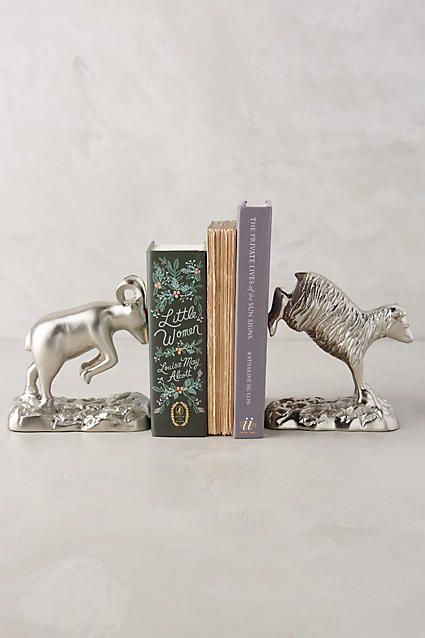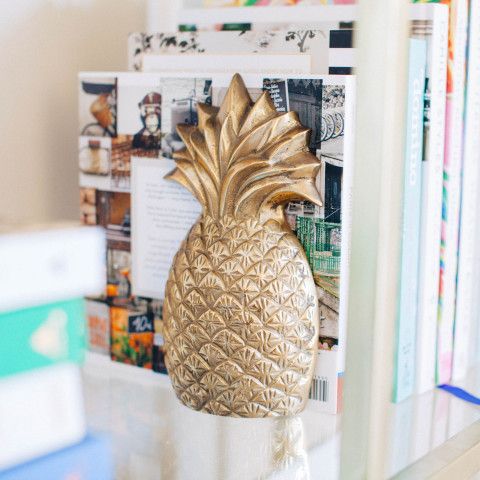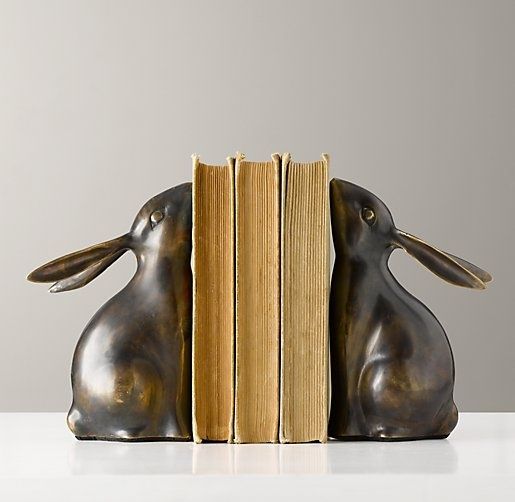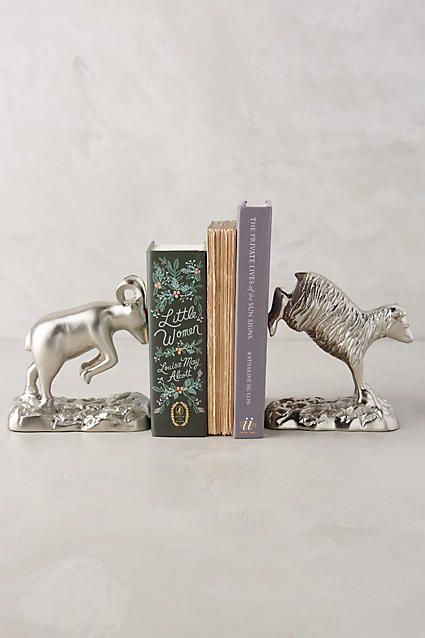 (Images via Pinterest & Not On The High Street)
Book Ledge
One of my favourite purchases for J's room is his book ledge from the Great Little Trading Co. – we fixed it just underneath his window so he can easily pick books from it. It's one of my favourite features in his room as it feeds his interest.
Pinspiration
I love using Pinterest to find weird and wonderful ways to display books and create reading nooks in your home. Take a look at my 'Books & Bookcases' board here.